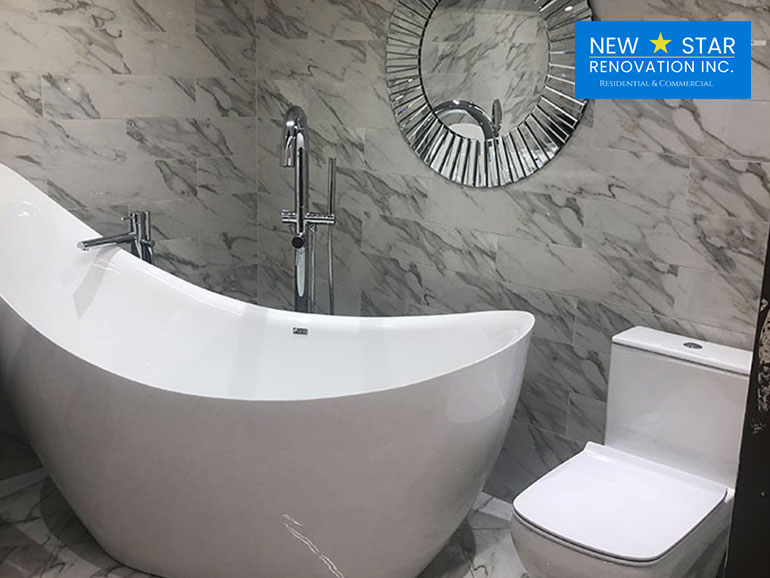 Reasons to hire professional bathroom renovation Contractors in Toronto Area
If you remodel your bathroom then it will have a great impact on its use as well as the resale value of the home. Undertaking bathroom remodel is a crucial task. New Star Renovation is available to aid you with it. Mentioned below are the ways how our service of bathroom renovations will be helpful for you.
Material selection:

If you hire our professionals they will make sure that your bathroom designs are cohesive and proper materials are used for the task. We are aware of the correct ways of installing building materials like tile, vanities, counters, and faucets daily. So you are assured that the task quality is excellent from selection till installation.

Knowledge of building code:

Before your

bathroom renovations

project starts you will need to pull a permit. It means that all done in your bathroom must fulfill building codes and pass inspections once it is completed. We are aware of the present on state-building as well as plumbing codes. We will help you to place fixtures along with plumbing in the perfect areas so that the completed design passes the inspection.

Save time:

By hiring our professional renovation service, you will be able to save your precious time. Our team will browse through the permit as well as inspection needs for you. It will ensure you are not experiencing any delay and everything is completed to the necessary standards. We will make sure that your bathroom renovations get completed quickly within a couple of weeks along with minimal disruption.

Trustworthiness:

As a reliable professional

renovation contractor

we are licensed, bonded as well as insured for doing the task perfectly. Thus you can rely on us to make your bathroom remodel a complete success.
Always remember that Bathroom Contractors will complete your bathroom remodel project better and faster. Try to compare cost savings and these advantages when you make a decision.
Need help? Contact Us