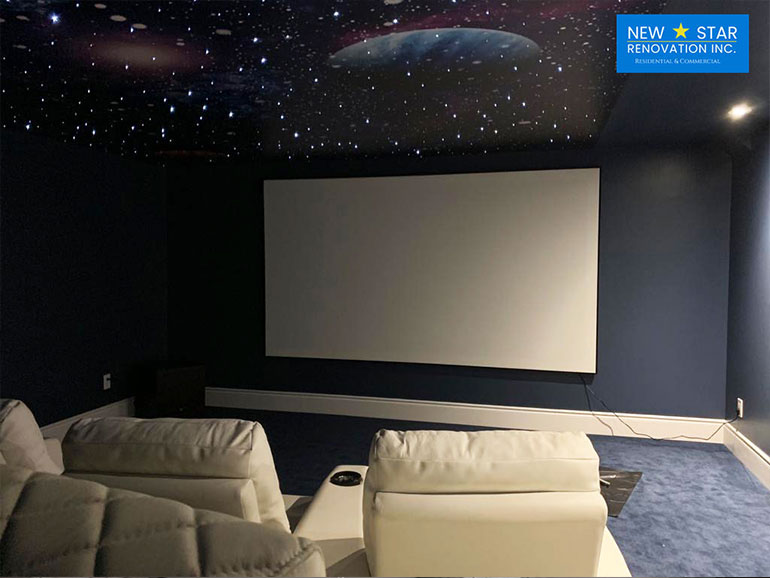 Reasons to choose New Star Renovation for Home Theatre Room Installation
Has it been your dream to have a home theatre room in your house? Have you been wondering if it fits into your budget? Bother yourself no more. We, New Star Renovation, are here to help you with designing and building a beautiful Home theatre that also fits into your budget and satisfies your requirements. Here are some more reasons why you should choose us to design your home theatre:
We can offer you better deals than anyone else on latest LED, 4K TVs, HDR and sound system as we maintain a good professional relation with all the main brands.
We don't hype and oversell the things. Before we install the home theatre at your house, we explain you all about the process so that you are assured that your money is rightly invested. Thus you would also know what is necessary and what is not.
We install all the requirements of a home theatre like home theatre seats, personalized cabinets, eccentric lighting designs and many more.
We can also provide you value based package if you wish for it.
All our workers are highly experienced professionals and are very reliable. So you need not have to worry about the end result.
Once we are done with our work, we make sure that everything works perfectly. We do not leave your house until you check it out on your own and are satisfied with our work.
We always maintain a good relationship with our customers and are always ready to help you with renovations Toronto. If you have any doubts regarding the kind of home theatre set-up that would suit both your house and budget, you can contact us at any time. We will provide you the best home theatre installation services in Ontario.
Need help? Contact Us