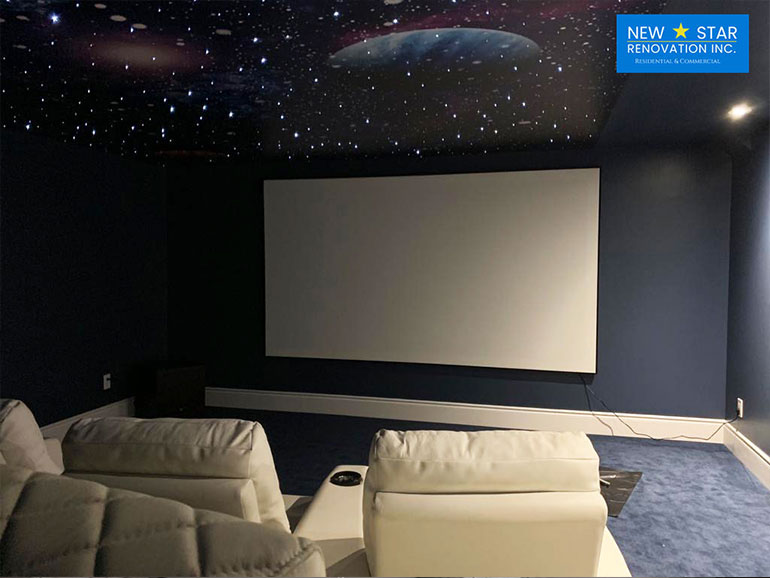 Reasons to Choose New Star Renovations for Home Theatre Installation Toronto
Do you have a desire to have a home theater room in your home? Are you thinking about whether it is within your budget? Don't worry about it; New Star Renovation will assist you in designing and building an impressive home theatre that is also within your budget and meets your expectations. Here are a few additional reasons to consider us for the design of your theatre for your home:
We can offer the best prices on the latest LED HDR, 4K TVs and sound systems since we have a solid professional relationship with the major brands.
We don't oversell or hype the features. When installing the home theatre in your residence, we inform you of the entire process to ensure that your money has been properly spent. So, you will know what is essential and what's not.
We can install everything you need for a home theater, such as seats for home theatres, custom cabinets, atypical lighting designs, and other things.
We also can provide you with an affordable package if you would like it.
All of our employees are experts with years of experience and are highly trustworthy. This means that you do not need to be concerned about your outcome.
When we're done with our work, we ensure that everything is working perfectly. We don't leave your home until you've checked it by yourself and are pleased with the work we did.
We have a great rapport with our customers and are ready to assist you with renovations Toronto.If you are unsure about the type of home theatre setup that will be suitable for your home and budget, please reach us at any time. We'll offer you the most efficient home theatre installations services within Toronto.
Need help? Contact Us