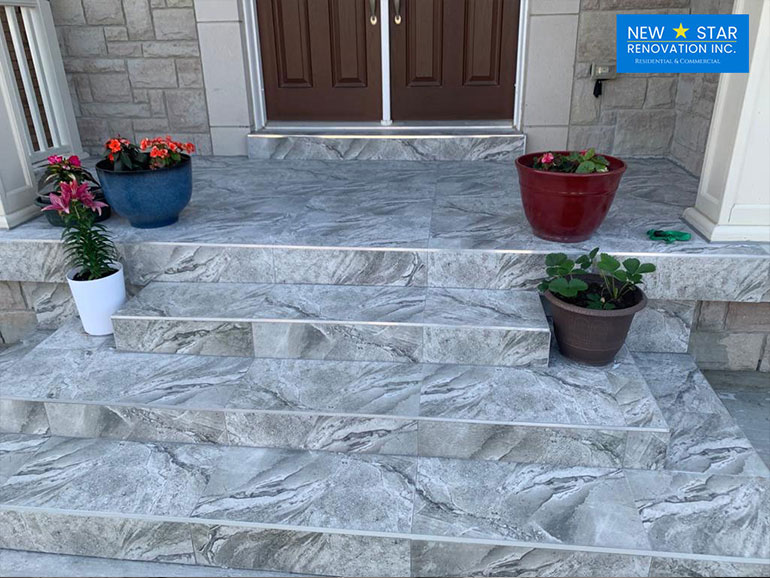 Hire a professional Tile Contractors for Tile Repairs & Installations
Many people consider installing tiles on their own. If you are aware of what you are doing, you can save money. But if you have no prior experience, you are sure to ruin the whole thing. So it is better to get expert help. They will also help you in choosing the right type of tile for your house based on your personal preference and budget. There are many different tiles available in the market like glass tiles, ceramic tiles, natural stones, porcelain tiles to name a few. For each kind, the process of installation is different. So if you did not know this, and still want a particular kind of tiles to be installed at your place, make sure that you hire a professional who has expertise in his job. We, New Star Renovation, are a well-known name in the business who have both experience and expertise in the field. Our tile installation professionals will provide you with the best tile installation or tile repair services.
We ensure the proper tile installation:

This involves floor preparation, making use of weight dispersing reinforcement for subfloor when needed, anti-fracture membrane as well as implementing other means to assure that the tile does not get any cracks.

We offer unique designs for your tile renovations:

When people plan a

renovations Toronto

, they always desire the outcome to be unique and attractive. Tile renovation is no exception here. If you too wish for unique designs in tiles but not sure what suits better to your place, we are here to help you with it. We will assist you in choosing the right tile for your floor. If it's a bathroom where the tile installation is needed, we can build a shower enclosure and make sure that everything is properly sealed and is waterproof. Our team will grout, seal, and silicone their overall work well to ensure the desired outcome.

We offer demolition, reconstruction, and repair services:

Do you want to renovate your room keeping the already existing tiles as they are? Or want some areas to be demolished and reconstructed before the new tile installation? New Star Renovation offers these services. Our professionals offer cleaning along with maintenance services for the existing tile as well as tile repairs.
Need help? Contact Us