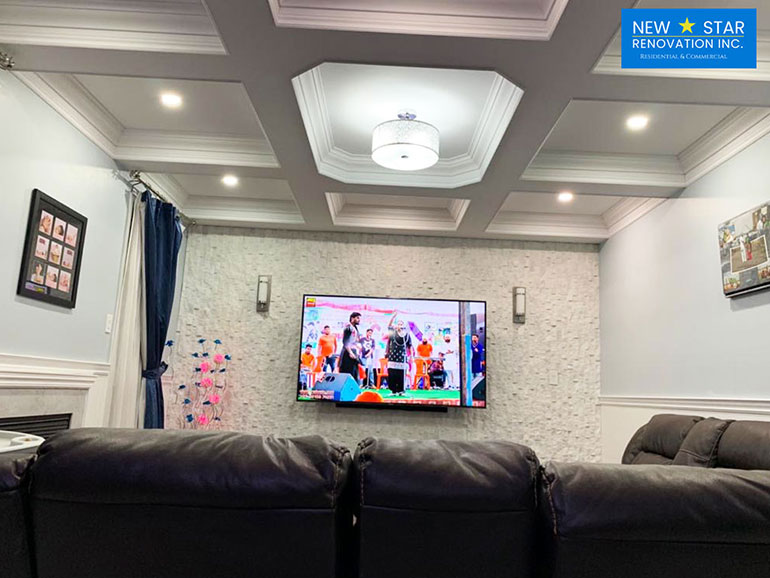 New Star Renovation - Professional Crown Moulding Installation Contractors in Toronto
We at New Star Renovation work with our customers to ensure that crown moulding looks exactly the way it had intended it to be. We provide you our crown moulding services with little fuss and make sure that there is minimal chaos in the house during the whole process and commit to deliver the best quality work in as little time as possible.
What is the main aim of crown moulding?
Crown mouldings are gorgeous, flared mouldings that are carved on ceilings. Traditionally its purpose was to fill the gap where different building materials came together while adding to the beauty of the ceiling. However, even though it retains its original objective today, aesthetics becomes the primary purpose to have crown moulding on your ceiling. In traditional houses, crown moulding not only offered extra support and added grandeur to the house, but also hid the imperfections like cobwebs and peeled paint.
Should you try to install it on your own?
If you can understand how it works or have experience in installing crown moulding, you can go for it without any second thought. But you also have to take into consideration the amount of time you need to offer to the work, the mathematical ability to know the right measures and angles, the knowledge to use a saw and a painting brush including many other aspects. Not most of the people would be an expert in all these aspects. Hence, hiring the professionals like us would not only ease the task but also provide you a better outcome.
We are a licensed renovation contractor, specializing in the installation of the crown as well as ceiling moulding. We have many years of experience in crown molding. We aim to provide the highest quality service to our customers as their satisfaction is our primary motive. We respect your space and privacy. We work without disturbing your time with your family and clean the mess once the work is done. We have updated ourselves with the current costs of the installations and try to provide our services at the best-quoted price that is pocket-friendly.
So if you ever think of adding attractive crown moulding Toronto to the ceiling of your house contact New Star Renovation and we will assure you an enhanced grace, style, and value to your house.
Need help? Contact Us